All opinions expressed in this blog post are the sole opinions of Gabrielle Stravelli, not the US State Department nor American Music Abroad. Our band is: Jim Ridl, piano, Pat O'Leary, bass and Jordan Young, drums. All photos in this post by Monique Falzon of the US Embassy Malta.
This weekend I'll be performing at the Kaufman Center in New York City in a series that teaches children about the Great American Composers and Lyricists- people like the Gershwins, Johnny Mercer, Leonard Bernstein, Cy Coleman and Dorothy Fields. I love being a part of this program because I love the idea of getting kids into music early- especially a kind of music that they might not hear at home and that they certainly don't hear on the radio. The opportunity to connect with young people was something that made our time in Malta very special. In all the other countries we visited we worked with college-age kids and adults, but in Malta we had two workshops with young children.
Malta is a gorgeous place- an island in the Mediterranean Sea between Sicily and the Northeast tip of Africa. It gets about 360 days of sunshine each year (why are we not living there?) and has extensive natural beauty as well as some really incredible historic sights- we visited Megalithic Temples that are older than Stonehenge.
On our first day we did a workshop at an elementary school on Malta's sister Island, Gozo, with about 40 music students. We were met by a lively (but incredibly polite!) group in bright blue uniforms carrying guitars, trumpets, a Euphonium, clarinets, saxophones and one snare drum. We had two vocalists and a large group of pianists. We started off as we often did, by playing a tune for the group and talking about where we come from and the kind of music we play and after that, we got them playing like a big band. For most of the workshops on tour, we got each group to form some kind of "vocal" big band- doing shout choruses and soloing- but this workshop was extra fun because we actually had a big band this time. We were able to split the various instruments and vocalists up and teach them little melodic lines to play that all fit together and that Jim and I solo'ed over once they all got going.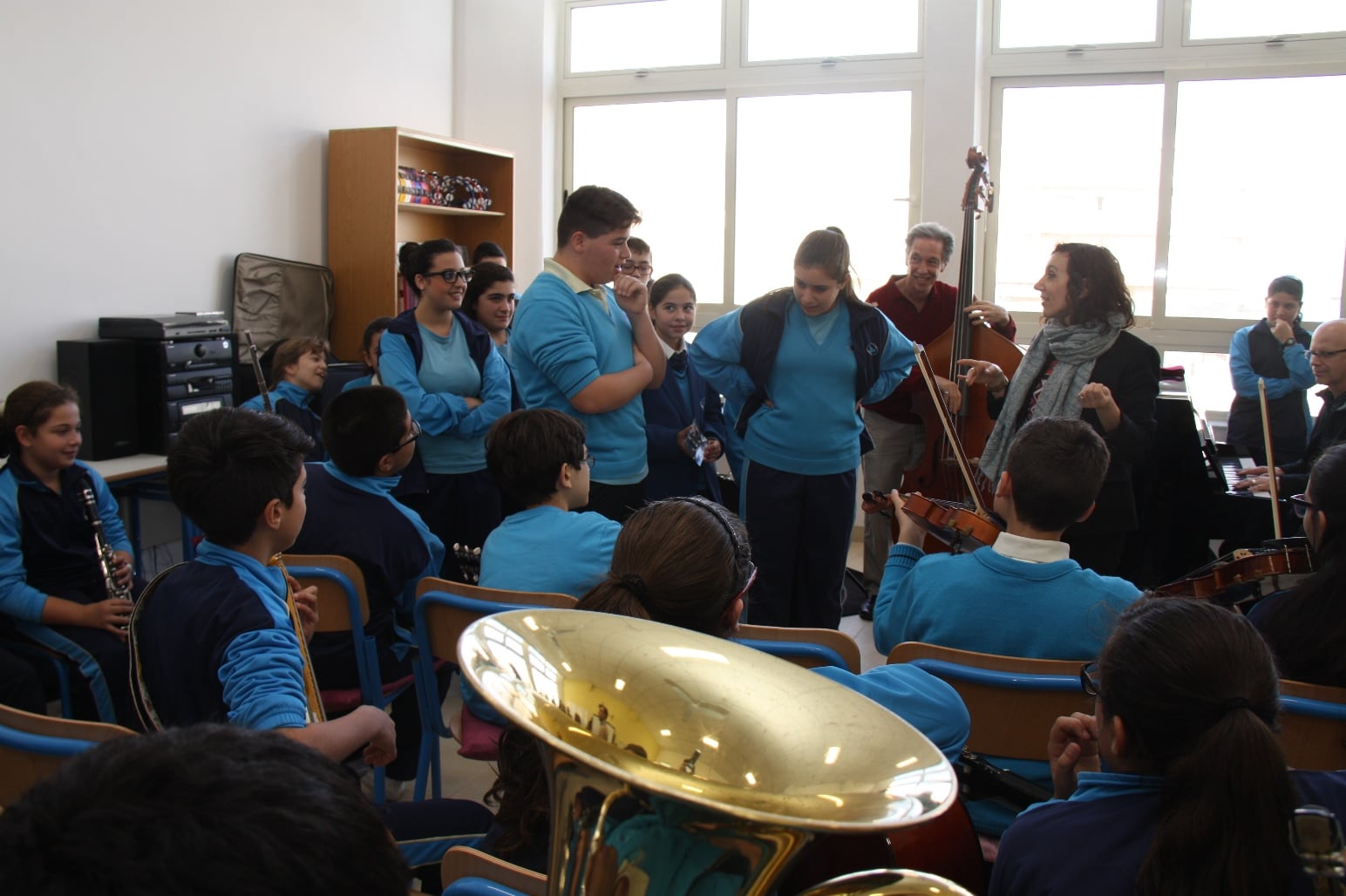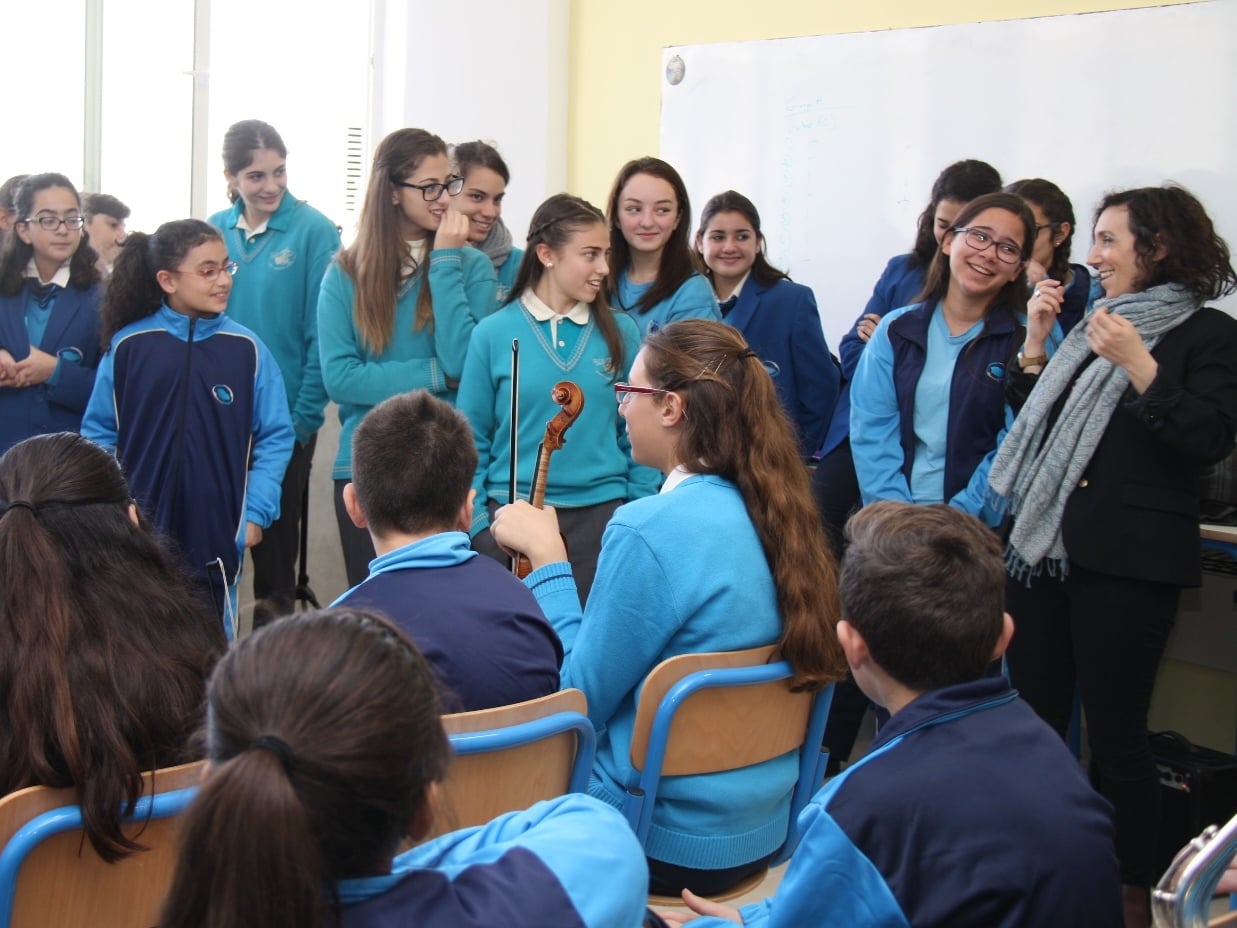 The big band exercise with this particular group was really fun (if not a little cacophonous)- they were very enthusiastic and surprisingly, already knew a bit about jazz music- but the next part of the workshop was even better, and I have to give credit to Pat O'Leary for leading it. He got the group to do a collective improvisation, which may sound a little nuts and I think some of the kids were scared or nervous or put off at first. After all, there's SO much emphasis put on practice and structure when you're a young musician that to hear someone tell you "just play anything!" would feel overwhelming. Lucky for us, there was a tremendously gifted violinist in the class named Matteo Pio who jumped in first and I think, inspired the other students to try improvising too. Matteo Pio is probably about 9 years old. He's got perfect pitch and when Pat first brought up the idea of improvisation Matteo Pio raised his hand and started talking about the music of Benjamin Britten. Remember, he's only 9 YEARS OLD!!!! Pat invited him to play duo- improvising sounds on bass and violin together- and Matteo Pio took to it naturally, following Pat's lines with phrases that answered him brilliantly. Everyone in the band left that day feeling pretty sure that Matteo Pio is going to be writing symphonies in the not so distant future. Here he is below, improvising with Pat...
Slowly, we brought other sections of the class into the improvisation until the entire group was participating. I can't say whether or not we made brilliant music that day, but I can say that we drove home two really important points:
1. Music should be fun. Of course you have to take it seriously, but at the same time, it's really important to have fun with it. Yes, musicians have to practice their craft, build their chops and learn repertoire, but it's equally valueable to get some time alone or with a friend to use your ears, see what you can create on your own and make music for the sake of just making music.
2. The most important thing you can do-that you must do- is to give yourself permission. I wish I had grasped this concept so much earlier in my life (#latebloomer) and now I'm hell bent on imparting this idea to the young ones. To improvise is to trust yourself, to trust your instincts, and to give yourself permission to just do what you think, what you know, is right in the moment. To say yes to the first thing that comes to your mind is to say no to self-judgement and the laundry list of doubts that can cripple the artistically inclined. I don't think those kids (besides Matteo Pio) had ever heard crazy music like the kind we made with them before that day. I don't know that anyone had ever told them to play the first thing that came to mind- to just make it up. But I really think that by the end of our time with them, they felt a little more emboldened to play with that kind of confidence and spirit.
Our next workshop with kids took place the following evening at the Johann Strauss School of Music on Malta and brought to us many talented kids, including a child who required no encouragement- and I mean that in the very best way. Liam is a young trumpet player who definitely has the music bug and is also well, a total ham.
The Johann Strauss School of Music has a jazz department with a fantastic faculty- including pianist Joe Debono, guitarist Manny Busuttil and drummer Joseph Camilleri, who've clearly set the students up there very well. We worked with some vocalists and instrumentalists who were really impressive- they already had a firm grasp of many of the techniques we wanted to work on. There were also a lot of younger kids at the workshop that night who were very eager to play, and we were eager to encourage them. We didn't do any free improvisation with them, mostly due to the fact that we had to accommodate both children and experienced adults in the same clinic. For the first part of the evening we split into groups by instrument (See pics below of Pat O'Leary working with strings and brass and Jordan Young working with young drummers) and then we reconvened for the last 20 minutes or so for a group jam where the students could put into practice everything we'd just worked on.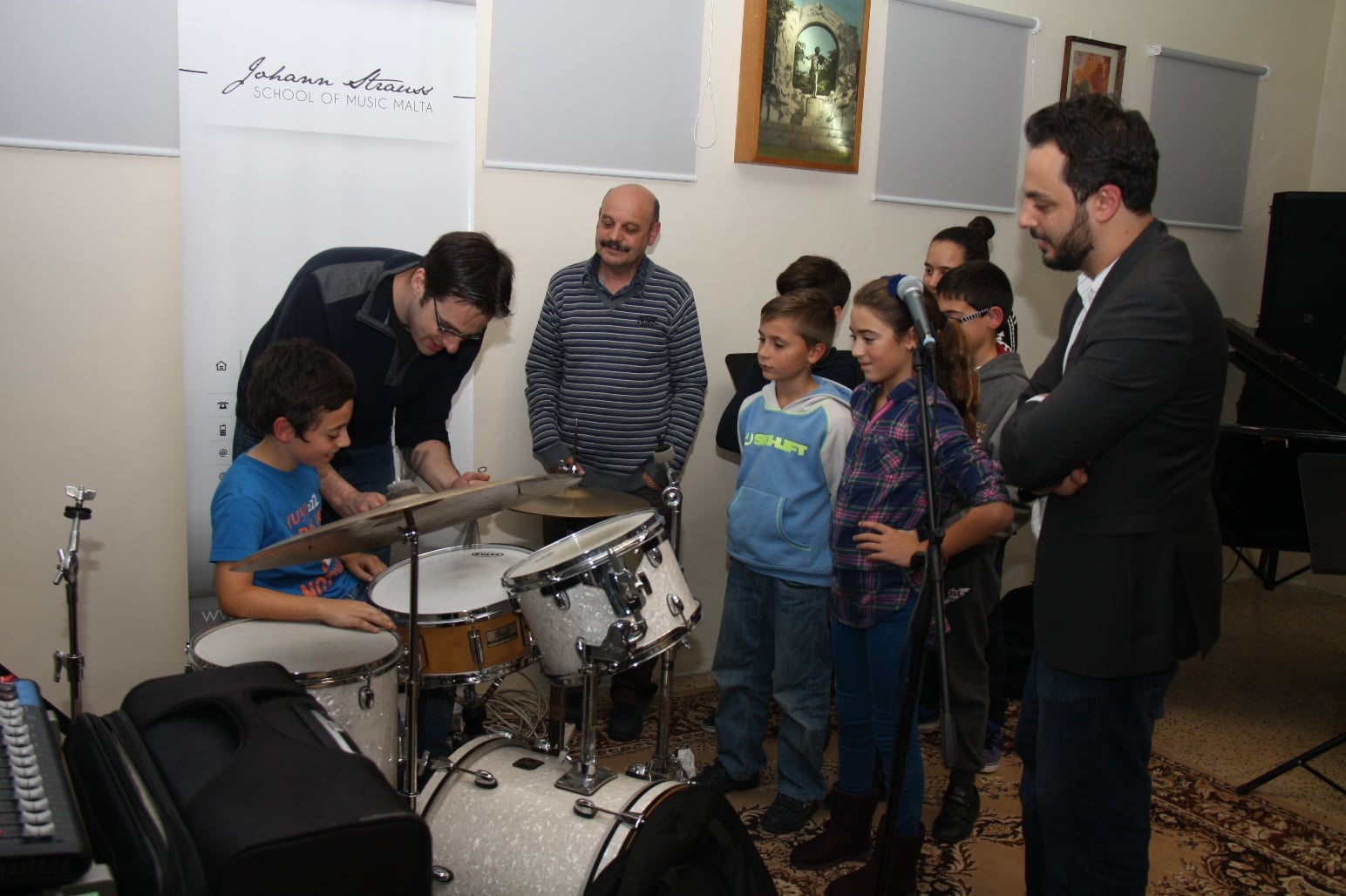 So remember that trumpet player I mentioned, Liam? Well, he kind of became the star of our jam session. Joe Debono sat in on piano for a tune and played beautifully. Sarah Marie Bugeja sang and scatted with great skill on two songs. Several drum students jumped in for a chorus or two and Liam played on everything- even the tunes he didn't know (i love this kid!). We brought him up to solo on the first tune and then as I tried sending him back to his seat for the second tune he turned to me and said pleadingly "Maybe you need just a little trumpet on this one?" How am I gonna say no to that?! We had a lot of fun with Liam and the largely younger crowd that night- I was proud of all of them for being brave and getting up to play in front of each other, even if they didn't feel entirely ready. As for Liam, he's clearly given himself permission to play, make mistakes and have fun. My only hope for him is that he never ever lets life squash that instinct.